Rita stood in front of the door, listening for the sound of Henri's voice. The dark hall she stood in was only lit by a small oil lamp. A guard stood nearby though he looked bored sitting in his corner. It could only be a good sign. Jimmy hadn't caused any additional commotion if the guard had time to be bored.

The door opened and Henri appeared to wave her in.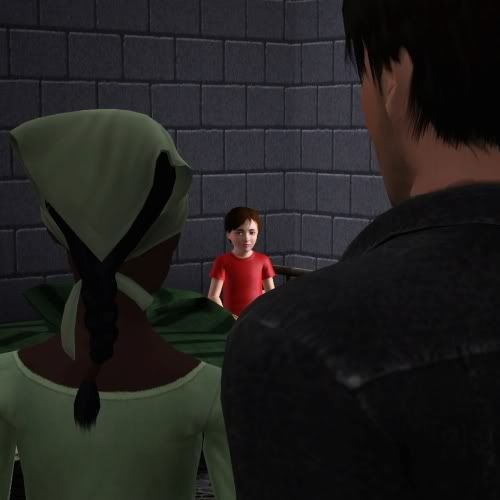 Jimmy sat on a small bed in the corner with an old rusted and scratched metal frame. In his hands he held the corner of a blanket piled messily on his bed, and when he saw her, his grip on it tightened. He slid off the edge of the bed to stand up in front of her and Henri.

The light of the small electric lamp on the small table behind Jimmy was too bright. It made Rita's eyes sting and made the moment much too real. It had been years since she had last seen such a lamp, and now she wished for the softer light of a candle where she could at least pretend to hide.



Jimmy studied her face, his large gray eyes steady. "I did do it." He didn't speak with pride, but with honesty and bluntness. Rita couldn't look away from him. "He was gonna kill me."

Rita wiped at a tear with the back of her hand. Behind her, Henri shifted, but he didn't step between them. She could feel him nearly at her elbow, ready to reach out and lead her from the room if she broke down.

"I'm sorry, honey." Another tear managed to find it's way down her cheek. "I shouldn't have let you go."

Jimmy raised his brows and glanced at Henri before he looked back at her. He seemed to struggle for a moment before he softly said, "It's not your fault."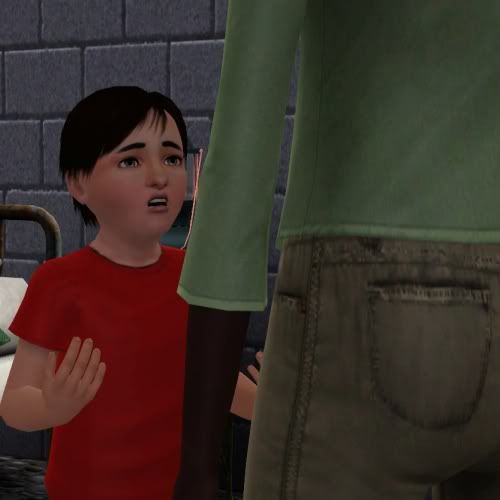 Rita wanted to close her eyes. Her head felt light, and she almost swayed, but Henri's hand was on her elbow then. She dried her eyes as best she could and tried to think of something more to ask.

"What will happen now?" She directed it to the both of them, Henri as well as Jimmy. They had to have a plan, something.

Jimmy answered her in a matter of fact way that made him seem more like an adult than a child. "Mr. Smith is gonna train me."



Rita looked to Henri, and he nodded in agreement though only a small while ago he had admitted he'd kill the boy if he had to. It was too much for her. It was just too much. She knew she would break. She could feel it coming, and there was no way to stop it. Rita looked from Jimmy to Henri as she tried to fight back the sobs she knew would come.

"Jimmy, will you let me hug you?"

He look at her through his sloppy little boy hair hanging in his face before he turned towards Henri, his dull gray eyes ever so slightly mimicking their old sparkle. "Can I?"

It surprised Henri; she could tell. "I won't stop you so long as you don't hurt her."

Jimmy nodded gravely before stepping over to her. "I wouldn't ever." She knelt down, opening her arms, and he smoothly stepped into them just as he had so many times before.







~~~~~~~~~~~~~~~~~~~~~~~



Upstairs, she did manage to hold it in. The bright light shining in the dirty windows brought some sense back to her. She sniffed, drawing in moist breaths as Henri stepped out ahead of her as if to get away from Jimmy all together. Rita started after him, wiping at the last few tears furiously.

"Henri, what did he do to James? How could he have-- it just doesn't seem possible."



Henri stopped right before the door. It took him a moment to answer her, but she waited, hoping something he could say would clear things up. He ran a hand through his hair.

"From what we can tell, he used one of James' own weapons-- a knife. He had it in his hands still when I saw him."

Rita still couldn't understand. Her thoughts were mud, and she worked hard to try and imagine it. "I still don't understand. He was so small compared to James."

Henri sighed. "James was an experiment. Jimmy is as much an experiment as the rest of us were."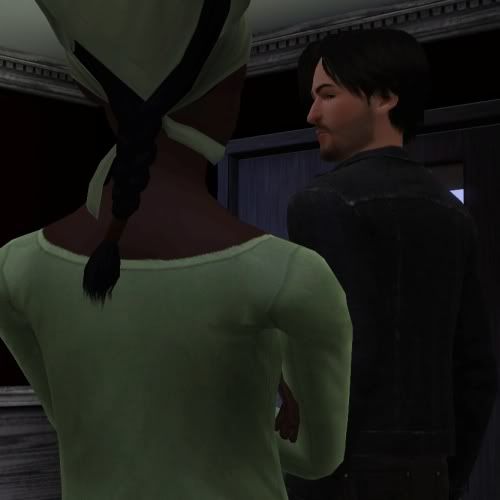 Rita thought of those large gray eyes of his, so steady and calm and accepting. She folded her arms and glanced away from Henri.

The dirt under Henri's boots scraped the wooden floor as he turned to face her. "You know, if he had wanted to hurt you, I doubt I could have stopped him."

Rita was numb. Her eyes fell back to the floor, all the energy sapped from her body.

Henri didn't move but to give a tug to his jacket. "I barely stopped him from killing Vivian. He stopped himself more than I stopped him."

They were both quiet until Rita spoke. "You tell me this now?" She was too exhausted to feel angry or upset at him though she realized that she had unwittingly participated in his experiment.

"Would it have stopped you?"

Rita licked her lips, swallowing the salt from her tears. "No. It wouldn't have. I think we both needed it. Or am I just making that up?"

Henri's expression was blank, but he gave a shake to his head. "No. He needs to know there are people who care about him and will count on him one day for protection."

She nodded. It would begin happening more and more often-- children growing up too quickly. She could already see it happening with many of the young ones who stopped by the village. "Will that be enough for him?"

Henri sighed again, his breath deep and heavy. "There's no way to know but to wait and find out."





~Fin