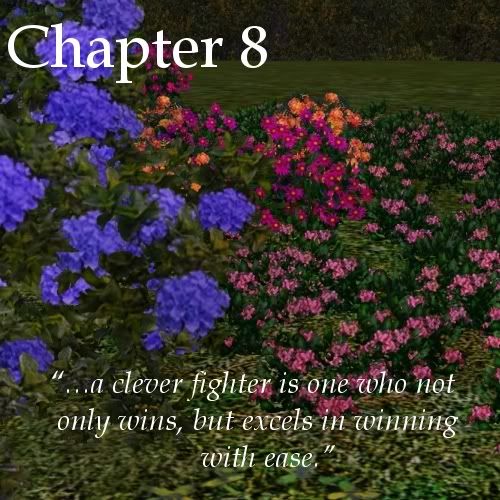 Michael - 8
Edith - 10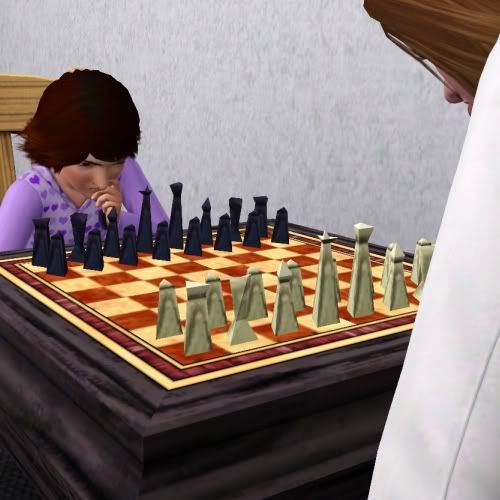 "Okay, now move that piece there and you can say 'check mate.'"

Happily, I complied with Michael's directions. "Checkmate, Mrs. Porter."

Mrs. Porter examined the board closely to see what could have gone wrong. "Edy, I only taught you the rules a couple of days ago and you've already mastered them."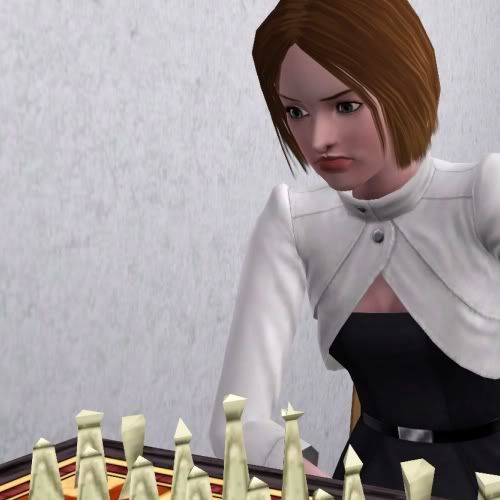 Instinctively, Michael pulled back though he stayed connected. Even I could tell we'd both made a mistake in getting too involved in the game. Michael didn't know at what level a normal ten year old should operate, and I was too busy basking in the fun he was having to even think that we'd be suspicious. It was a careless mistake on his part, one of the rare times he'd ever let his gaurd down.

"No, it was just luck."

"Edy, there is no luck in chess. You moved your pieces across the board like a master technician. Really, are you and your father playing a trick on me?"

"No, Mrs. Porter. Really." I changed the subject right away. "Can we go look in the garden?"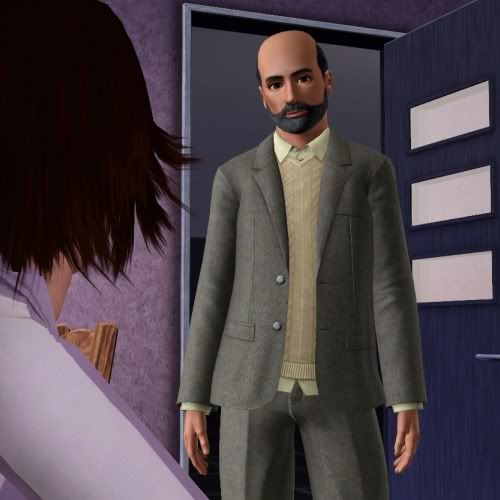 Later on that night, my father stopped by to check in on me before bed. I had a feeling I would be in trouble since he was never the one to tuck me in.

At the sight of him, Michael suddenly became very angry and disappeared. It felt the same as in the mornings when I left the comfort of my warm blanket. I was left alone with my father.

"So, I hear from Mrs. Porter that you're a master at chess."

His tone was friendly, but Michael had warned me that he couldn't trust the adults. One of them had him locked up, he had said, though I didn't know if I really believed it. I knew most everyone in the lab, and they were all so friendly to me. Why would they lock up another child but be so nice to me?

"No, I just really liked it is all."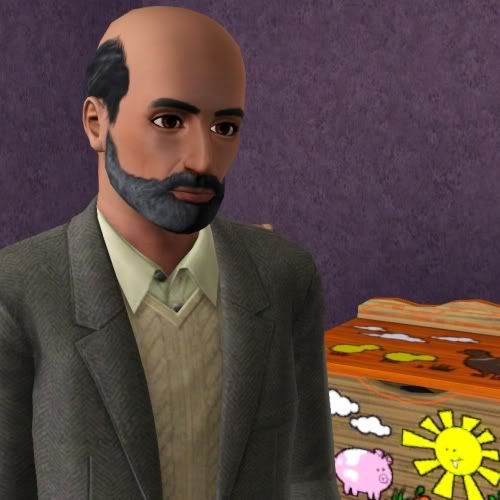 My father seemed to eye me suspiciously. "Edy, you would tell me if there was something strange going on, wouldn't you? Say if you heard someone's voice in your head."

Right then was the moment I was sure I would lose it. Did my father know? How did he know that? I wanted to ask him a ton of questions especially about Michael. But I had to keep my word. "I'd tell you."

"Okay." He still seemed suspicious when he kissed my forehead and tucked me in. "Good night, Edith."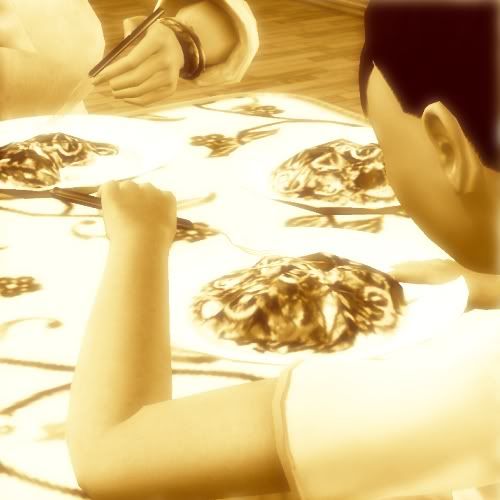 "The human mind is a miracle, Judith. There are so many things to discover, so many things we could possibly do. When our abilities are tested, we can do the most amazing things. Humans have lifted heavy machinery to save people they love. Sometimes people know when a bad thing is going to happen. Sometimes they dream about the future. Can you imagine the power if we could remove the blocks on a human mind-- the power they could access with only a thought?"

"Honey, I hate you talking about your work at the dinner table. Especially in front of Edy."

My father sighed in my dream. Something seemed familiar about this dream.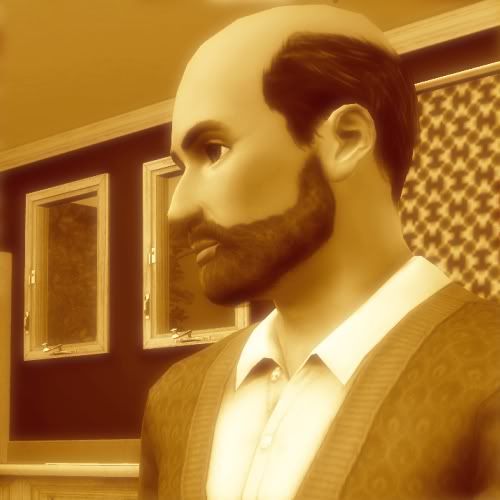 "We have a subject. He's a perfect candidate. Already shows an intelligence beyond his years, his pathways are open. But you know the laws. The company is willing to fund the research. It has visions and can see the usefulness, but we can't do it here. We have to go across the border."

"The labs already failed once. It's dangerous there. There are already other experiments roaming around. Failed ones."

"We'll be safe. The structure is already built. It has special security features that only I will have the codes to. We'll be safe."

Something was wrong. This wasn't a dream like my normal dreams. Suddenly, I wanted desperately to wake up.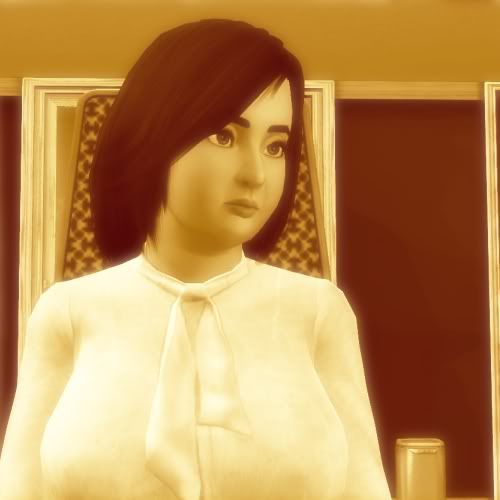 My mother looked directly at my father. "You've already made the deal, haven't you?"

"The records will be purged. It will be as if we never existed at all. The company can't afford to be caught, and I can't lose this work. He could be the most powerful."



Michael didn't reappear for a day. I kept thinking at him, wishing he'd come back, and worried that he wouldn't. Clearly I had done something wrong, but I had no idea what.

When he finally did reconnect, two days after my father had spoken to me, there was a coldness to him I wasn't accustomed to. It unnerved me, and stopped me from asking him about that night with my father.

"Edith, will you do something for me?"

I was torn between this new feeling of oddness and my very old and comfortable feeling of complete and utter trust for my best friend. Through the link, he had to know what I was feeling right then.

"Trust me, okay?"

It was difficult to say no to him considering our situation. He was trapped somewhere, and I couldn't help him. The least I could do was trust him.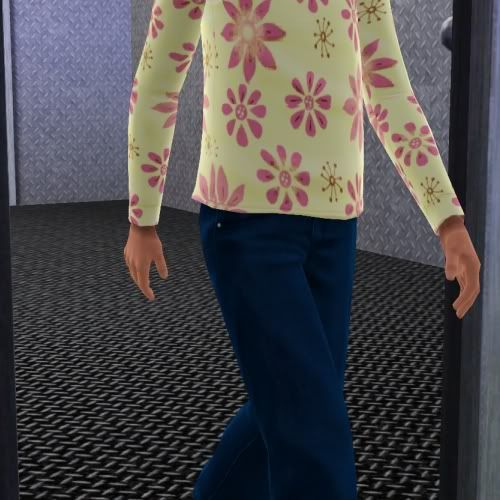 Michael lead me to areas that were previously restricted for me, opening doors as we walked. Surprisingly, there was no one in any of the restricted areas to stop us, and finally, we came to the last door. Michael opened it for me and I stepped out on real outdoor grass touched by the sunshine.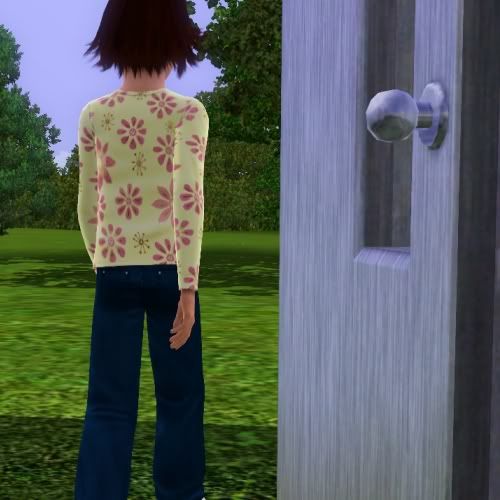 The Lab we stayed in had no windows on its steel reinforced walls. It'd been years since I'd been outside and seen fresh grass. Going so long without, it almost seemed wrong to stand there with the sun shining down on me breathing in the fresh air.

Michael directed me to a large patch of brightly colored wild flowers. They were beautiful like nothing we had in our indoor garden.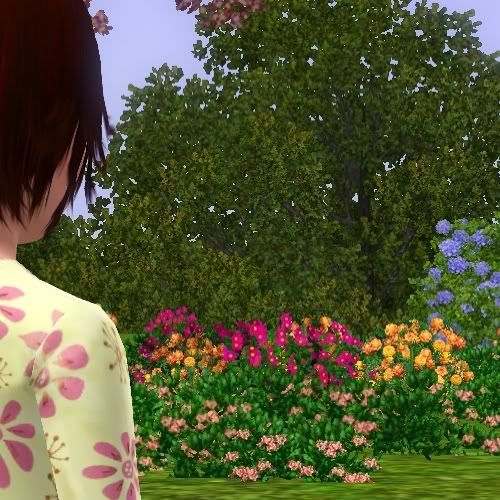 He became quiet. I distracted myself by smelling each of the flowers, but it seemed clear his mind was else where. I could still feel him present in our connection. It was like someone standing near with a hand on my arm.

"Michael, what did I do to make you mad?" I reached forward ready to pluck a flower to hopefully save it in one of my books so I could always remember this small adventure the two of us shared.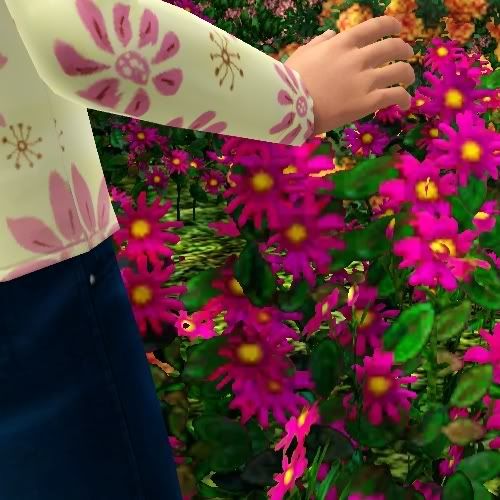 "It wasn't you." His words were short, bitten back. "Edy, you can't take anything back with you."

I sighed. He still sounded mad. It was clear that I was missing something. I just didn't know what to ask.

The chance to ask again wasn't going to present itself. "You'd better go back inside." As soon as he had me safely inside, he disappeared again.


Next Chapter -->