Sunlight washed over the plants in the park making every thing appear to be a glowing green, vivid and alive. The air was fresh, still slightly moist with the slowly drying dew that had coated everything when the children had started to arrive that morning. Mary lifted her head, brushing her hair back behind her ear as she took in the scent of the flowers beginning to bloom and the freshness in the air.

There was something magical about it. Like her favorite fairy tale book. She felt as if she could do anything. Intoxicating.

It was still morning when he stopped by. It was his lunchtime because he started so early. He'd dropped Brandon off before the sun was out. She expected it and always made sure to be there to receive Brandon if only to see those light eyes of his brother's fall on her with a glint of appreciation.



He stood under the very large tree near the playground, leaning against the trunk with his arms crossed. It made the others nervous to have him standing there watching them, but Mary didn't see a problem so long as everyone was doing what they were supposed to do. Unlike some of the other parents, he'd never gotten mad at her, so she really couldn't see what the others were afraid of. As far as she was concerned, he was the most reasonable of the caretakers despite his supposedly being so protective of his little brother that it terrified the others.

Mary stood with her hands behind her back watching him out of the corner of her eye. The kids didn't really need her. They'd been pretty good so far, and with him around they were exceptional. It was almost comical to her the way everyone started to suddenly behave with him around.

She caught his eyes fall on her and it made her stomach flip. One hand rubbed her belly as she turned back to the kids on the playground. Brandon could read thoughts sometimes (it was something he was supposed to keep quiet, but felt he had to tell her), so she had to make sure to keep hers under control. It had to be obvious though. Some of the others had started teasing her about it. "Maybe he'll show you The Room," they said. The supposed room he had that he could take his victims that not even the Leader of the Southlands would go. A place where he had free reign to be as terrible as he wanted. Mary had heard about it, but she didn't believe it.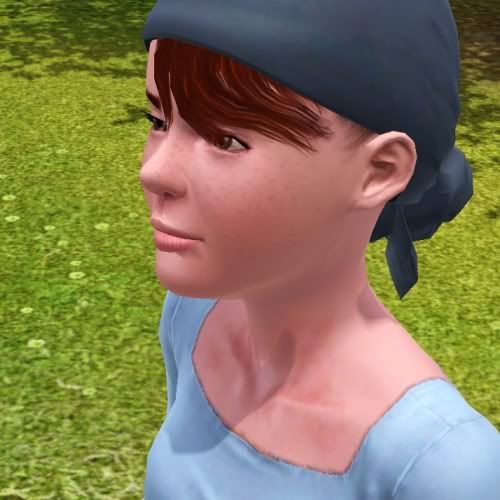 She tried not to think about it. He didn't stay long, just for his lunch time usually. It made her wonder when he ate on the days he hung out there because he never brought himself any food. Mary patted her pocket where she kept her apple for a snack. Sometimes she shared it with Brandon if he got really hungry because he came so early and lunch was so late for him. But Brandon seemed fine today, and their lunch time would be soon.

She turned and walked up the slight hill where he stood still under the tree, the apple in her hands to stop them from shaking and give her something to focus on while she did something absolutely insane by everyone's reckoning. Even he looked slightly surprised when she stepped up to him with the apple outstretched, offered.



"I never see you eat."

He looked ready to refuse, but Mary held it out firmly to him, almost shoving it at him. If she was more familiar with him, she would have just put it in his hands and then held her hands in her pockets.

"Thanks." His eyes watched her much too sharply. They were so clear in the strangely bright sunlight it reminded her of the way the light hit the dew hanging off the plants and the playground. The light shone through them and almost seemed to reflect back. She turned away, her hands behind her back, to watch the kids on the playground. She caught one pair of bright blue eyes on her, saw possible concern wash over them, but it could have been in her imagination. Brandon was really too far away to read. The other caretakers hardly glanced back at her. She could practically hear their thoughts like shouts in her head and she wasn't even a mind reader.

He actually was eating the apple. Not in large bites, but small bites that were almost polite. It surprised her and almost made her want to laugh.



"You make them nervous, you know."

She kept her eyes on the playground and she imagined that he was doing the same. When he spoke, there was a lightness to it, almost as if he were grinning.

"I know."

She glanced at him and there was a small curve to his lips and a slight narrowing of his eyes as if it wouldn't take much to make him smile. Mary swallowed her heart, trying to mentally shove it back into place while praying that he wasn't a mind reader too like Brandon. Not that it mattered; something told her he could read it on her face.

Her heart fought its way up, tugged up by the corner of his mouth. "Why do you come here?" The words blurted out without her meaning them to, but her brain and her body seemed to be on different planes fighting completely different wars. But it was too late to take them back. She cringed while trying to not cringe, but she couldn't look away from him.

He turned towards her, one arm still on the trunk of the tree. "Just keeping an eye on my brother."

Mary nodded as if she could understand the weight of responsibility he bore raising and protecting his brother. "He's fine; I promise you. I watch out for him." She didn't add that it was because the others were scared to-- because of him.

Even leaning against the tree with one arm he stood taller than her. Mary was aware of how close they seemed to stand together, but she hadn't moved and he'd hardly moved either. Her heart beat too hard and it made her feel unsteady on her feet so she leaned back against the trunk of the tree for support, her hands pinned behind her. She tried to look away, to look out over the kids as if she could really pay attention to them with her legs feeling so wobbly. Instead, her eyes caught his which almost looked to be smiling still. It wasn't what she would have expected from someone that frightened the others so much.

"You do realize why they're scared of me?"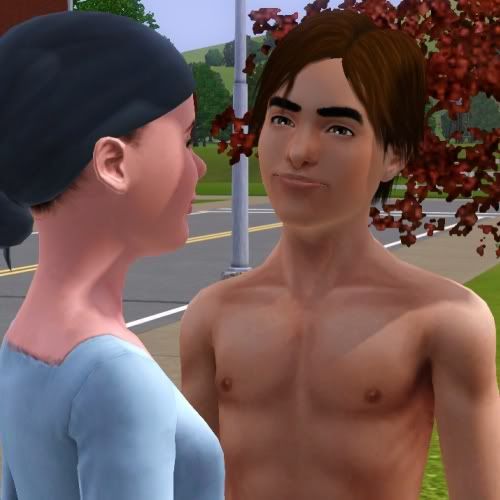 There was a way he said it-- his lips seemed to pull back, not in a smile, not in a threat. It was more of a grimace which she couldn't outright explain.

She couldn't outright lie. Mary nodded her head because she was pretty sure she knew why they were scared of him even if they never gave specifics.

"I don't think you do." He said it softly, his keen eyes on her clearly reading her even better than his little brother could. "Otherwise I'd have to ask if you're normally this stupid."

His words weren't harsh. She'd almost describe them as tender in some strange way. Somehow the space between them almost didn't exist, and she wasn't sure if it was just her mind playing tricks on her or if he'd actually leaned in closer. "Not normally, no."

That made him smile, and it surprised her how a smile seemed to change his face. He looked her age, and so handsome that she knew exactly why she was being stupid. Of course, she couldn't be the only one to have made this discovery, and so it suddenly made sense why everyone was so curious about him.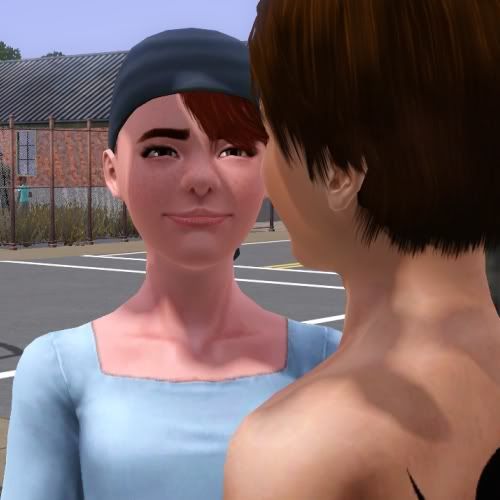 "Maybe I'll explain it to you some time." He said it still with a smile. "Thanks for the apple. I've got to head back."


Ages: Jimmy and Mary ~15 (Brandon would be around 8


The Ghost -->



******************************




Thank you to the Chaos Carrier mod by ChaosMageX. He's slowly throwing mods out there that are making it easier and easier (and even more fun) to get some of these pictures.