The rest of the morning feels off after that strange start.

I clean up and putter around the house, wiping things down that probably don't need wiping in an attempt to give that strange feeling time to fade away. It doesn't. Once the sun is up, the early morning light trying to shine its way into the kitchen window, I head downstairs. If the day is going to be strange, then let it be strange.

I peek out the door and see Alex sitting by himself on some crates outside. It's hard to believe he's a Lost Lander. I don't really know what I expected, but he's certainly not it. The only clue I ever really had was the strange accent on his words. Other than that, he looks just like anyone else. He's as normal as whatever passes for normal around here.

He looks back over his shoulder and notices me with a smile before he stands and comes over to me. I feel like an idiot spying on him from the crack in the door, but there's no accusation or judgment on his face. He looks glad to see me, a small smile on his lips as he reaches out for me again, putting his hands on my hips.



That smile of his widens innocently. "Your face is red again, but I have shirts. Two shirts." He tugs at his shirt, a short sleeved one over an older, ratty, long sleeved one.

It doesn't help. This is just too natural standing here like this with his hands on my waist while I blush like an idiot. Do girls even blush here? They probably see so much by the time they're my age-- he probably thinks the red face thing is a rash or something.

He touches my face like he did yesterday. "You are okay? Brandon came in time?"



It takes a second to switch gears. He must mean last night. So he went and got Brandon last night. "Yeah. Fine. What did you think he would do to me in Henri's house anyway? Henri was coming."

Alex looks troubled and right away I feel guilty for sounding so harsh. "Do not trust him. He isn't a good man."

"But he's Brandon's friend, isn't he? Brandon wouldn't be friends with a person who was bad, would he?" The words coming out of my mouth surprise me. My mouth and brain have completely disconnected, and I'm not even sure what I'm looking for. To prove Alex wrong? To see how deep Brandon is? To comfort myself?

"Brandon is different," he says with hesitation. "He is good, but does what he must."

The odd morning and that creepy girl probably contribute to my discomfort at Alex's words. It doesn't help that I ate a breakfast made by Henri. My stomach twists threateningly.

So I change the subject completely. "Why didn't you tell me you were a Lost Lander?"

That doesn't exactly seem to catch him by surprise. Still, there is a shift in his gaze from concern to somberness.



"I didn't want you afraid of me."

There is nothing I can say to that. I can't even deny that I would have been scared. Maybe I would have, but maybe I wouldn't have. No one really gave us the chance to find out.

"You look very young sometimes," he says, still with that shadow over his face that makes him look older. "They say where you are from you are a child."

"Technically, in a way."

Alex's hand slides around to the small of my back. He presses me towards him and I find myself enveloped in his arms. It is warm and yet at the same time frightening. A move so natural and yet at the same time unbelievable. Compared to him I am a kid, and he's an adult and has been for a long time by my guess. Living a life I could never imagine that I find myself resisting even now. I'm not a part of this world and even if I've met some people that I've grown to care about, I'm still not a part here. I don't fit in, and I probably never will.

"Alex," I softly say as my mouth takes over again. "Aren't you sleeping with Kyrene?"

I expect him to jump back and deny it. Isn't that what they do in TV shows? But he doesn't.

"She won't have kids."

My mind goes completely blank. "What?"



He pulls back enough to look me in the eye. "She won't have children. She uses her power to stop it."

As far as I can tell, there's only one way to take that and if just his hug was frightening, that's terrifying. "I'm not having kids either!" Heat bounces from my skin to my hair, trapped against my ear.

I'm ready to pull away, but he says, "I wouldn't do that to you."

Some part of him comes across as wounded or insulted, and I suddenly feel guilty for my assumption. But I'm not sure what he means or even what to ask to better understand him. All I think I know is that he doesn't mean he wants to get me pregnant.

His hand on my back, Alex stands too near. Still, I don't move away. His stubbly chin gently brushes against my temple, and I'm satisfied staying here like this with him. But I know this can't be enough. He's a grown man. He's been with Kyrene.

There's a small comfort to that though. He has someone who knows what to do and how to make him happy. Because I don't really think I do, but I don't have to be the one to be with him.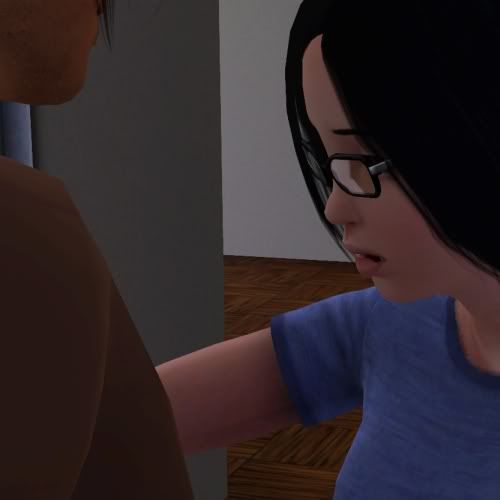 He surprises me by simply standing here with me. He doesn't do more or ask for more. Until there's a moment I'm looking up and he's looking down, and the distance between us feels as if it's melting away. It frightens me and I step back. For a second, he does look like a man who will swoop me up in his arms, and for a moment, secretly, I almost entertain the idea of it. But he doesn't do it, so I don't have to thrash around in a lame attempt to get away.

Instead I make up a lame excuse and go. He doesn't argue, and he doesn't come after me.

Next Chapter -->