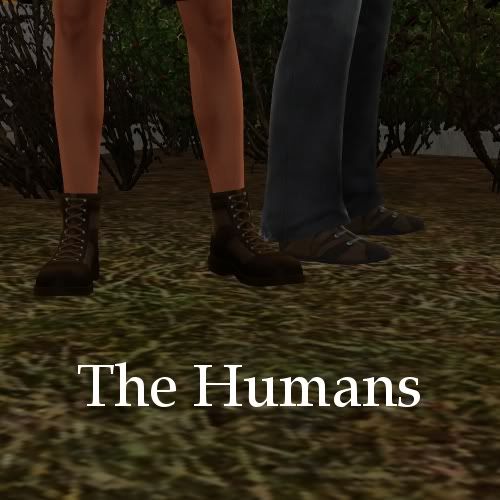 "They're humans too. Like me, right?"

Alex still looks uncomfortable, but he agrees to let me go ahead. There are two standing watch at the one door we found that looks like it isn't rusted shut. One young man and an older man with graying hair and a receding hairline. The older one is the one that makes me worry. He looks tough, and as gruff as Henri looks every time I see him. He holds a large gun in his hands, and I wonder if they're just for show of if they actually manage to produce bullets for them.

I swallow then take a deep breath. We're stuck. There is no where else to go. We need to find a place for the night, and it's pure luck that those people are standing outside. Alex manages to explain that he rarely sees them outside, but he thinks it's when they're waiting for someone to return. The place is that impregnable that they have to wait outside to let their people in.

So I spend a couple of minutes trying to convince myself that this is something I absolutely must do.

Alex doesn't say anything at first, but he crosses his arms and frowns. He's another person who picks up on the unspoken language of people, and I'm sure he can tell that I'm waffling.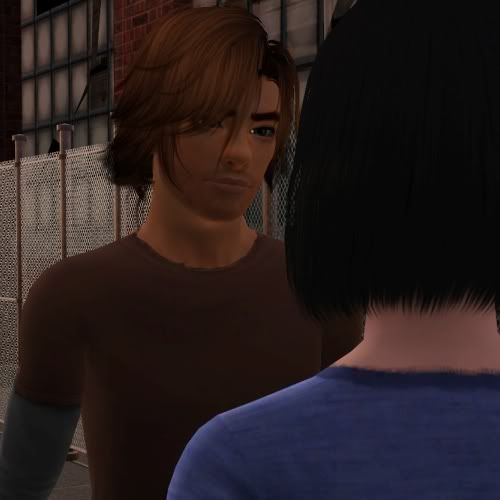 He tries to offer me an out, suggesting that he can find us a safe place in one of the other abandoned buildings, but I shake my head. "I have to get in there." I don't bother to explain why I have to get in there even if only for one night.

Alex coaches me through it. He agrees to let me approach ahead of him, but he wants me to go slow and not get too far away from him just in case. I nod and don't bother confessing that I wouldn't want to get too far from him anyway. This bravery thing is completely new and untested.

We both walk towards the people with me in the lead and my hands in the air. The people standing watch see us right away, and their grips on their guns tighten. The younger one's eyes pop open and I can see the whites of them, but the older one, his eyes narrow. He doesn't point his gun at me, but he still holds a finger on the trigger.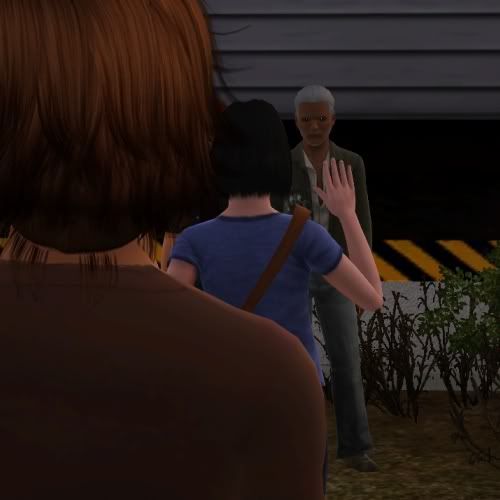 "I'm human," I say.

He looks me over then lifts his chin towards Alex. "He's not."

It's true. Even with his shirt on and without his making much movement, they can tell. How? What clue are they picking up? His stance? His hair or his eyes? I try to refocus on the problem at hand and hope that if they're picking up that he's a danger, they're also noticing that I'm not a danger.

"No, he's not, but he won't do anything." Words gather in my head, barely halted by my tongue. Should I even say it? They wait for me to explain, but I can't help looking at the guns they hold and remembering that night when me and Mom were separated so long ago.

"I want to ask you something, but, uh, don't shoot me, okay?"

The older one smiles. "You'd be dead already."



I nod, not completely comforted by his response. "We need a place to stay overnight. And, um," I pause to take a breath and swallow to clear my mouth of any extra saliva. "I sort of want to see the lab. If I can."

The old man looks me up and down. Behind me, Alex doesn't make a sound, but that doesn't necessarily mean anything. He could be sneaking up soundlessly from what I'd seen of him as we were walking through the remains of the city.

The older man jerks his gun in Alex's direction but still doesn't point it at us. "What's his thing?"

I glance behind me slowly and catch Alex's eyes. He makes a tiny nod to give me the okay to tell. "Uh, he controls people with his eyes."

"And he's a fighter."

Isn't everyone here a fighter? I wasn't aware that there were special classifications for Wildlanders, but it's true. I've seen what he can do even if it was mostly in play. "Yes."

The old man stares at the two of us with his lips held tightly together. I don't catch what he says at first so he repeats himself again, but louder. "All right. C'mon."

I glance back at Alex, surprised that anyone is going to trust us and half expecting a trap, but he steps forward, smooth and careful, to stand by my side before we step forward together.

The older man eyes us again now that we're up close, but he doesn't seem to change his mind. He gives a small shake of his head. "I'm going to trust you. But you," he says with a glare at Alex, "Any funny shit and I will shoot you."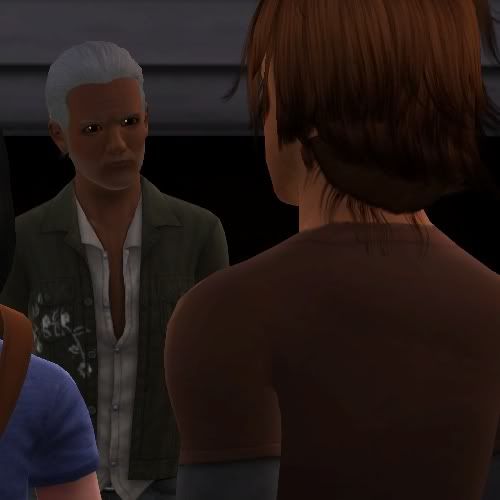 Next Chapter -->