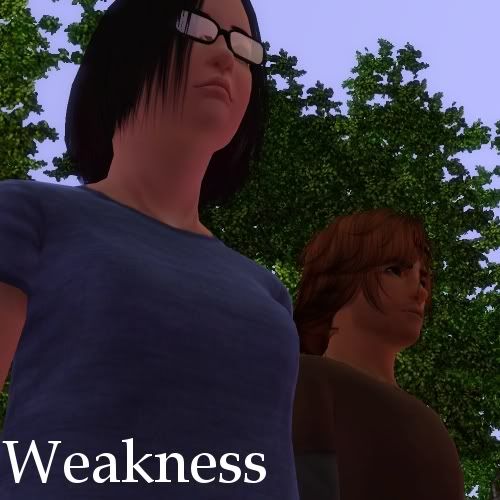 Out of the corner of my eye, I catch Alex turning my way often enough that I'm sure he's developed a crick in his neck. It started out subtly at first, but over the course of days of walking through the forest had grown more obvious and more constant.

Do I look that tired? I inhale deeply as I plant a hand on the rough bark of a tree and put some of my weight on it before pushing off again. As hard as I've tried to hide it, I am exhausted and I need to rest longer than just sleeping over night in the middle of the forest. And those nights are probably cut short since Alex wakes me up at the first sign that the sun might be rising. Even in my sleep I'm walking, so it can hardly count as a rest.

"We are close," Alex says with another glance at me.

I look up at him just as he turns away, but I don't ask. Where ever we're going was only a few days walking distance from where we were the whole time. Something about that disturbs me. I'm no tribal tactician, but it doesn't seem right. All that time, and she was so close, yet he never bothered to save her on his own. Why in the world would he need me?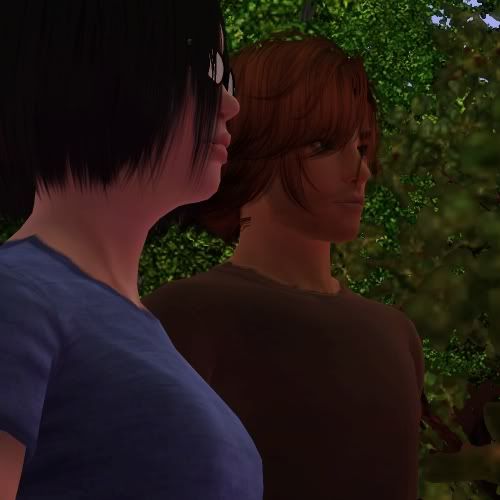 Alex stops me suddenly with one hand to my chest. A wind rustles the trees just as two people come into sight not too far away from us.

The boy looks younger than me but there is something about him that is off. At first I can't put my finger on it, but then his eyes, deep and dark, turn on us and I nearly dive behind Alex. Not cold, but steady. They're eyes far too old for his face, wise and sure. He looks at us the same way Aaron has looked at me, as if he were sizing up us both, and at the sight of Alex, his eyes harden.



Behind him there is a girl, my age, who clutches his hand and actually gives it a tug at the sight of us. Her eyes are huge in her delicate face, and the rest of her hardly looks like more than skin and bones. The clothes she wears are dirty, but not ratty. In fact both of them wear clothes that look newer than average though still a bit dirty.

I don't move. Alex doesn't move. The only one who is moving is the young girl who tugs on the boys hand and whispers, "Don't."

Her pleas alone aren't enough to move him. Alex quietly adds, "We mean no harm."

The boy looks at me and I catch his eyes for an instant before Alex steps between us and repeats himself.

"Michael," the girl says. "Please, let's just go."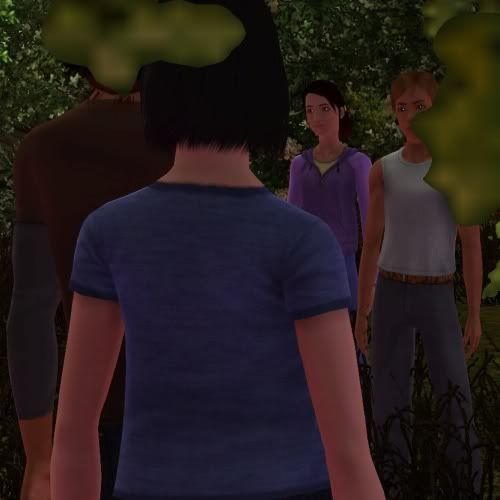 There is a strange quiet right after she says it. Alex suddenly relaxes. He turns and wraps his arms around me. I catch a glimpse past him and see no one. The space where they once had stood is now empty and they are no where in sight. They haven't walked off as far as I can tell.

My hair stands up and I give a shiver. "What was that?"

He shakes his head. "I don't know. A bad sense. Someone powerful."

He must mean the boy because that was the one who was creeping me out. Another Experiment? The son of an Experiment? Something about the entire situation was not natural.

We don't stand around long. Alex pulls me forward through the spot they had been standing in and past it without stopping, not even to examine the scene.


It isn't far. The entrance to the place isn't more than a hole in the ground. Alex glances at me before taking my hand and leading me into it. I hesitate for a moment, and he stops, looking back at me and waiting for me to show that I want to continue. In that moment I catch his eyes and I can see something there that I can't place. Is it concern for me or is that the frown of a worried parent frightened for his child?

So I continue, following him down the old stone steps into the dark.

By the dim light of the setting sun, I can see plants growing in this small room as if it were a cave. Ivy grows up the wall out of a thick pile of dirt that covers the floor.



An old metal door is in front of us, and Alex raps on it with his knuckles. I wince as I imagine the pain to the thin skin of his knuckle pressed between metal and bone. Alex doesn't look at me. His jaw is set. He stares at the door, waiting for it to open.

The door is opened by a large man with dark skin and a friendly, if sharp, smile. "Alex. Welcome back." He notices me, and his smile disappears. "This is?"

"Brandon's weakness."

I look up at Alex sharply as his grip on my hand tightens. An eerie feeling creeps up my spine and I don't know whether to completely ignore it or bother with trying to rip my hand away from him.

The man looks back to Alex, probably seeing my indecision all over my face. A seriousness falls over all three of us. No smile. No words.

"C'mon." Is all the man says as he steps aside to let us in and we once again walk into a darkened tunnel lit only by a small oil lamp.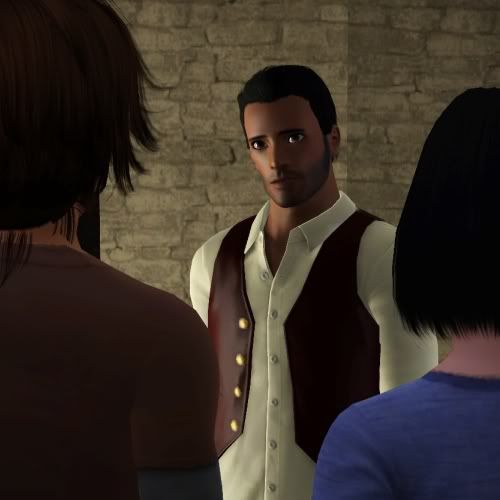 Next Chapter -->