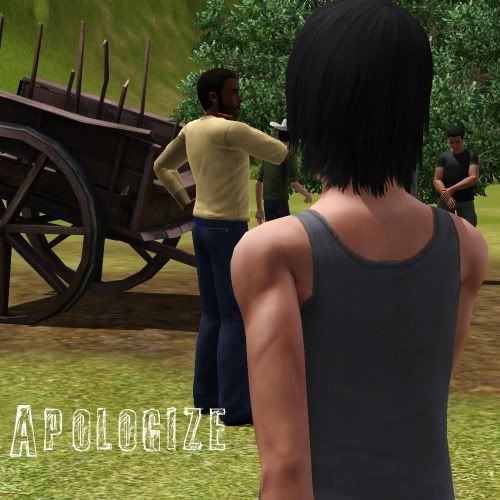 They saw me coming. A couple of people from the village were loading a cart for a trading trip, and at the sight of me stalking towards them, they stood back and pretended to inspect the goods they were loading on the cart. It left Frank standing alone and exposed, unaware of my approach until I called his name.

"Frank."

He turned, surprised to hear me call his name, and, once he recognized me, angry that I would dare. I stepped up to him as he looked down at me. Frank was as tall as Henri, and I wasn't fully grown yet, not that I'd ever be as tall as either of those men.

"Boy." He said it roughly, meant it to demean me. He was expecting a low ranking tribe member, not me. "What do you want?"

I was so angry, I wasn't sure what to say or how to begin. It was important not to show weakness or immaturity in front of Frank; he was waiting for that. I needed to be clear, and I needed to strike cleanly.

"You need to apologize to Pat."



Frank crossed his arms and stared me down. Any reasonable man would back away from that look of his, but I was hardly a man and I wasn't really reasonable. Not right then, not with the image of Pat barely holding back her tears clear on my mind.

"Are you telling me how to raise my daughter?" He stepped towards me, expecting me to step back. Again a reasonable man would have. "Don't think I don't know you were the one sneaking her off and doing who knows what with her."

He looked pissed enough to reach out and grab for my neck. I wanted him to try. With all the training I'd had, not just from the tribe, but extra time spent with Jimmy for "fun," I would be ready for him. I wanted him to test me. Intead he walked away from me, turning his back on me to show me he didn't feel threatened.

I followed after him, the few feet to the cart. "I haven't done anything with her. Pat isn't like that."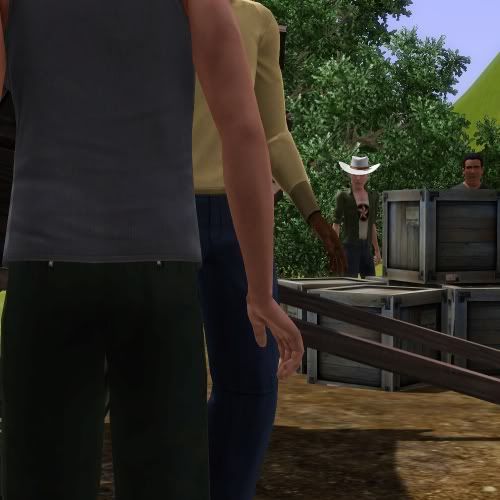 The villagers who had been pretending not to watch had given up pretending and were both now standing and watching the two of us, expecting someone to get hurt.

Frank turned and reached out for me, most likely to push me back, but I was too quick. I reached forward and pushed his arms to the side, throwing him off balance so that he had to grab onto the side of the cart as he fell back on it. That only pissed him off, and he pushed himself forward, swinging a fist at me.

I hopped back then and let his slow punch pass me by. Not only did I have training, plus extra training, but I had youth on my side. He wouldn't be able to move as quickly as I could, not with his large size or his long limbs. There are disadvantages to being too tall.

"You ballsy little fucker." He stood up straight and glared at me, wanting to reach out and wring my neck. I could see the image of it in his mind. If I'd have held still long enough, he'd have put both large hands around my neck and squeezed until I passed out, then left me there while they loaded the cart and headed off on their trip. "What gives you the fuckin' right to tell me how to raise my daughter?"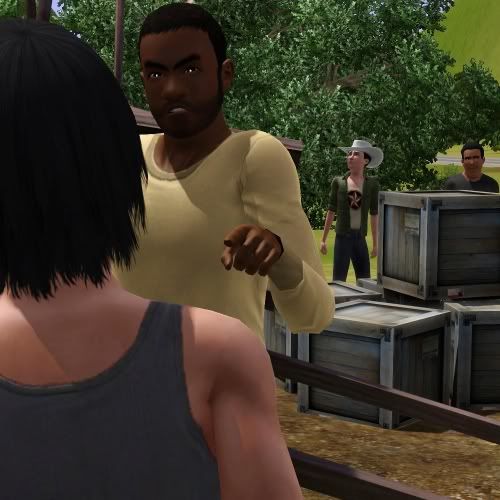 He was pissed, and now that I'm a father myself, I can understand. If he were still alive today we'd probably be sharing drinks, laughing about that time with him making fun of me for replaying it with my own daughter. Except there would be a difference. Unlike him, I know what my daughter thinks after I reprimand her unfairly. I know how much she looks up to me and her mother, and how easily words can hurt.

Frank had found out about us. He'd seen me walk her back from the meadow. We'd been careless. I'd taken to holding her hand, at first with the excuse that she might trip down the hill and have to explain grass stains on her clothes, and then later on with no excuse and for far too long. Though I hadn't been there with her when she faced him, I had been back two weeks later when she ended it, his words running through her head continuously.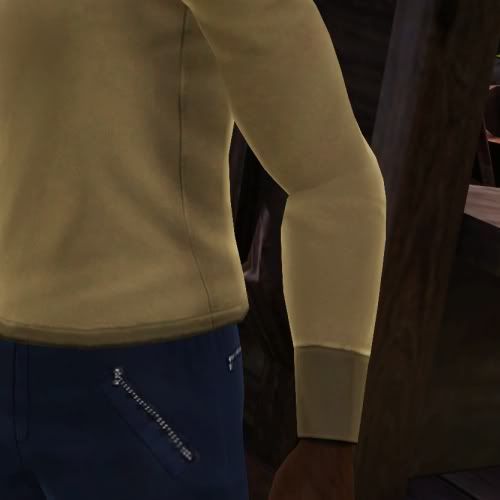 "Because I fuckin' care." I stepped forward and gave him a shove back onto the cart. "She's not a whore. She's not like that. And if you knew what I knew, you'd regret saying that to her."

I glared up at him, listening with all my senses. He reached forward to push me back and I let him, stepping back when he shoved so that I'd keep my balance. Emotions weren't always packaged with the thoughts I picked up, especially not the more complicated emotions, but I could see the regret in his eye and hear it in his thoughts. He already knew I was right and he already regretted it. But he was a man as stubborn as Henri.

Telling him what to do would do no good. I couldn't make him do it now after our confrontation, and I couldn't suggest he do it once he got back. He would resist all the more even knowing he had been wrong.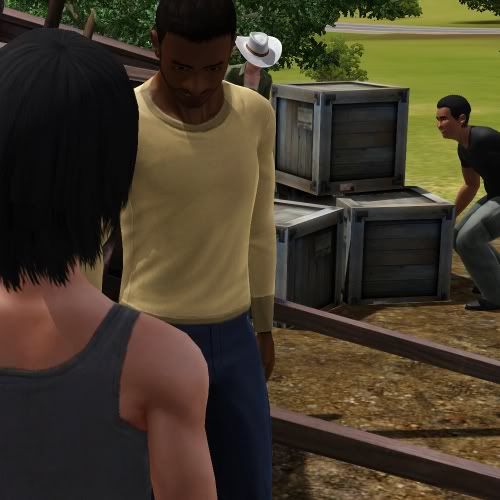 "Get out of here, boy."

I turned and threw a glare over to the two villagers who were watching us. They looked from me to Frank, most likely getting the same look from the both of us, and then they went back to work as if they had seen nothing.


Next Chapter -->