Michael - 14
Edith - 16
Killer - probably around 29 or 30
Timeline: In the midst of chapter 6


"Who?" Michael spoke calmly despite being surrounded by one of the largest groups we'd ever faced.

The name of the man in charge was known as "Killer." We'd been told that he was from the Lost Territory. It was commonly accepted that he was the first son of the Original Experiment, the one who'd originally started the Revolution. They said there was a look to his eyes, the same look they said had been on his father when he'd been young and forming the Southlands.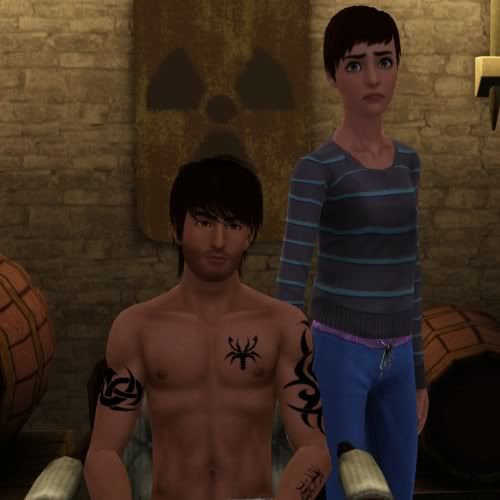 We were there because Killer was becoming too strong a force for Michael and the others to ignore. Although he was a nomad, like us, he seemed able to convert people to follow him too quickly and fervently.

He sat before us, a hint of an arrogant smile on his lips. Behind him stood a girl who looked at us with eyes large in fright. She didn't see me, her eyes were only on Michael.

Killer glanced around the room and I could see a few of the weaker ones flinch. "Her." He nodded to a girl hardly older than me who stood off in a corner. She was barely clothed so that her ribs pressed against her skin was highly noticeable. There was a wild terror in her eye that I'd never known even on that worst day. Everyone was a danger to her. Even me.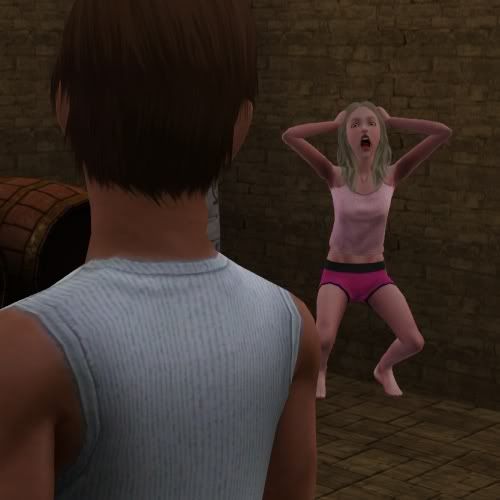 Michael only glanced at her and she pressed into the wall fearing the sight of him.

There was a familiar sound from behind me-- the familiar shredding of clothes and more, the gasps of the men near-by him, the scent of blood. The girl tried to press herself through the brick wall. Her eyes grew wider in fear and she started to whimper as if she didn't have enough energy to even scream.

My head didn't turn. I caught Michael's eyes. There was no emotion on his face when he said, "Don't look."

I could hear one of the heartier guys behind me say, "I'm not cleaning that up."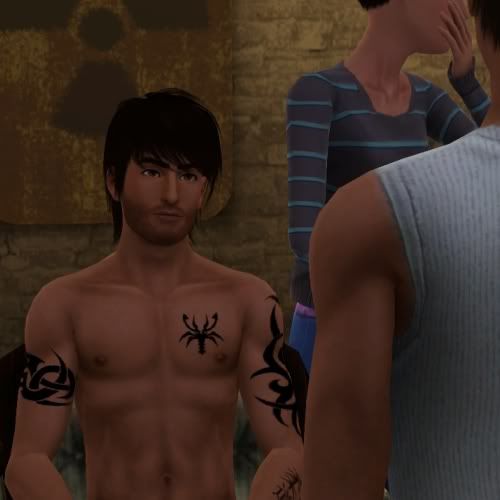 Killer seemed impressed. He wasn't the least bit disturbed. It was another clue that something had to be off about him. We were invited to stay to dinner, just as Michael had hoped.


"Don't speak, even if he speaks to you. Keep your eyes down on your plate." Michael had said before we were to head downstairs to be ushered into Killer's private dining room. "I can't leave you behind."

It was the first time I'd seen Michael so tense. Any situation we'd gone into previously, Michael had always known that he could handle it. But this time, something about Killer seemed to unnerve him which worried me.

We were lead by one of the men from earlier through underground tunnels and down one flight of stairs until we were finally ushered into the room Killer used for his private dining room.

My eyes did not scan the room. I did my best to do as Michael had said I should, and I kept my eyes down. Still, I caught sight of the girls from the audience chamber. The hungry one sat in a corner watching us wearily. The other girl sat at the table in the spot next to Killer.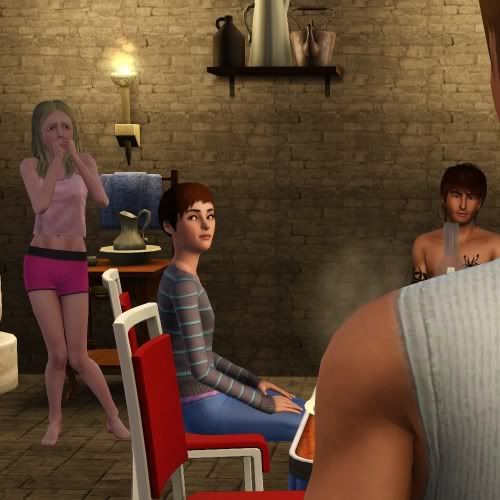 Our plates were already waiting for us and we sat down in front of them. Michael took the spot nearest Killer. I caught sight of the the girl in the corner clutching at her stomach in pain as we sat with our plates in front of us.

Killer's voice was deep and dark, yet smooth. It reminded me of a small pool of water, still over the top, but covering a large hole that would swallow an entire leg if you stepped into it. He made the normal inquiries, whether Michael had liked the room he'd provided and if he'd had any problems with the others before they started to get into the reason we came here.

"I need help with a problem," Killer was saying. "If you'd be willing to help me, I'd find the way to be willing to help you."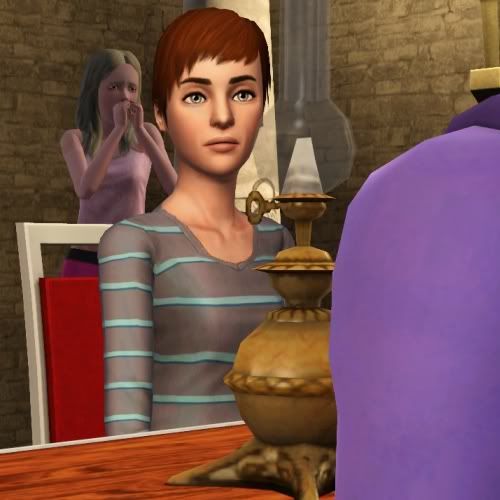 My eyes barely glanced up, only enough to catch the light eyes of the girl in front of me, and for the briefest of moments, our eyes met before we both looked away. Or maybe I was the only one who looked away.

"The Southlands have more than enough resources to fight a war with the Neutrals, if that was what you really wanted to do. But they're working with the Neutrals-- the same people who created the labs that supposedly tortured the old guys. If you'll help me stop them, then I can promise you I'll use my... abilities for the good of your cause."

It struck me how dull her eyes looked. They were the same eyes I saw from time to time when I looked in a mirror. In that instant, I felt a bond between the two of us without words needing to be said.

"You want to take on the Southlands? But isn't he your father?"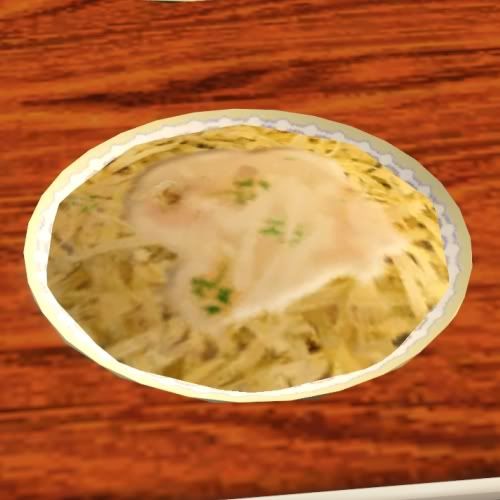 We were two like souls at the mercy of forces more powerful than either of us. Clearly taken care of while those around us suffered. I stared at my untouched plate. The girl in the corner still watched us hungrily though she made no noise, not even a sniffle.

"Biologically, yes. The man raped my mother. But he's already disowned me in favor of his chosen successor. Bennet is difficult to get past, even for me. I could use your help with him. So I can have a fair shot at my father."

"You want to kill him. But his power--"

"His power is nothing really. Most powers are negated with me around. His dog, Bennet, happens to be one of the few who aren't affected."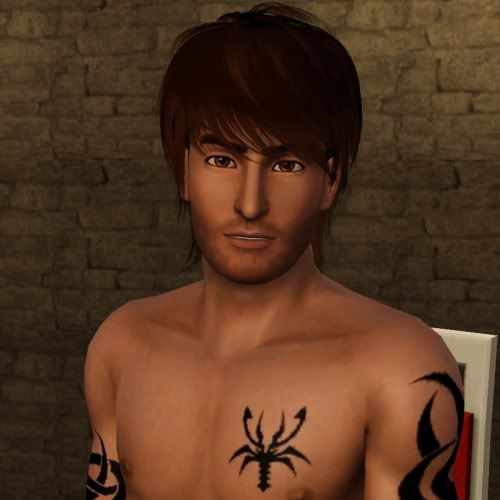 Something about his voice caused a tingle in the back of my neck that almost made me shiver. My eyes jumped up from my plate to the spot Killer sat. His eyes were deceptively warm, hiding the coldness and cruelness that I could sense from him. I could see the curiosity in his eyes by the candle light for the second his eyes held mine. Quickly, I forced mine back down to my plate which only called his attention to the fact I hadn't touched my food.

"What is with your pet? Is she not hungry enough?"

Michael's voice was flat, but I could hear his anger barely contained. "It's the one in the corner. She doesn't like eating when others can't."

Killer ignored it if he caught it. "Very odd one. You must not be treating her properly."

"I need her to look good if we're going to fool anyone."

"I've got some better looking ones. We can do a trade."

"No." Michael was thankfully quick to respond.

Killer's voice was too jovial and friendly after that. There was a quiet pause before he said, "Tell her she can feed the girl."

I could tell that there was something going on that was over my head. Not being able to see their expressions, I had no way of knowing what exactly was going on. Michael caught my eye and gave a small, curt nod.

By then, I wanted to be anywhere other than under Killer's watchful eye at the table.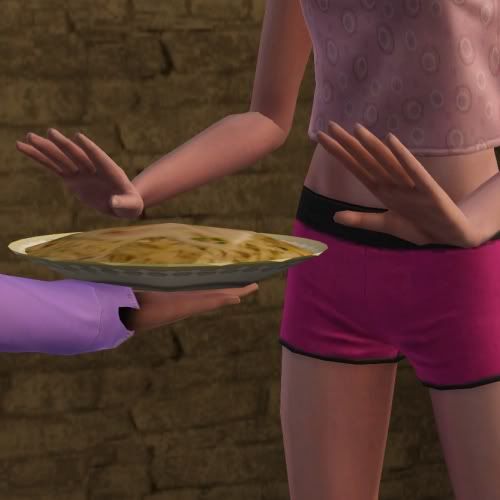 I stood up, careful not to glance at Killer again, grabbed my plate, and slowly made my way over to the corner where the girl stood. Her wild eyes glanced from me to Michael and Killer behind me. "No…" her voice was only a terrified peep.

I stopped before her holding the plate out to her, but she cowered in the corner, afraid to take it.

"He will hurt me," she whispered in terror.

The "he" could only be Killer. It was then I realized I was only aiding him in his torture of her. I couldn't go back to the table to face him, and I couldn't stay standing in front of her with a plate of food she wouldn't touch.

Michael's cold voice cut through the air making me and the girl jump. "Let her eat."

Killer still had that tone of amusement. "She can eat. I'm not stopping her."

There was a tense silence at the table behind me. The other girl at the table said nothing, but I was sure I could hear her ragged breathing in time with my pounding heart.

The girl in front of me watched the table with large eyes. Quietly, I heard Killer say, "Fine. Eat."

Cautiously, the girl glanced from the table to the plate in my hands. She looked as ready to cry as she was to eat. Slowly, she reached out to take the plate from me and then she began to shove food into her mouth.



Breathing did not come easily until we were outside in the setting sun, Michael tugging at my hand, pulling me to a safe place to teleport away. He'd agreed to work with Killer just before we left. Said he would gather the others and they would be in contact.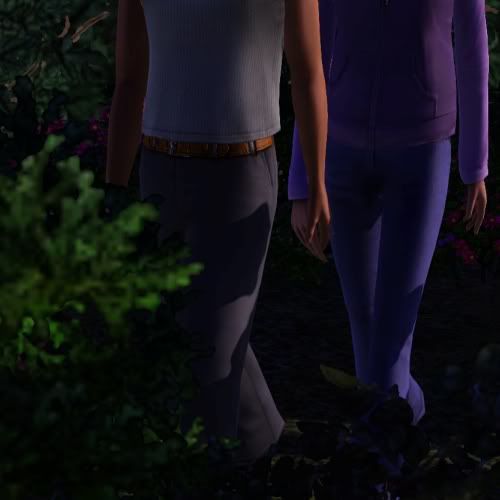 My mind ran wild with fear at Michael and Killer together. As I followed in the dark behind Michael, I remembered That Night and the things I'd already witnessed him do. He had never tortured or harmed young girls as long as I'd been by his side. What would he do now? What would he become?



"I'm not working with him." Michael said it to me in the dimly lit room once we were back in friendly territory. He spoke those words to me as I lay still, trying to fight back the nightmares on the edges of my consciousness.

Quietly he added, "I had her go to sleep. She won't wake up."

Perhaps he meant it as a comfort that her mysery was over now. The one poor soul who would haunt my memories always present and in the background as she had been at Killer's. Because she didn't have a Michael, because the light eyed girl's protector was her torturer. And my protector had snuffed out her life casually rather than find a way to save it.


On to Chapter 1 of new Story: Paula -->