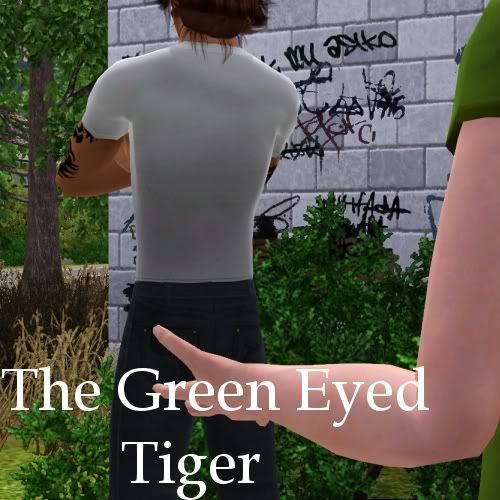 "Alex, what are you doing?"

It takes him a second before he turns around to face me, the sound of my voice in the doorway apparently surprising him. His green eyes catch mine for a second before I look away to stare at the large puddle of water left after the morning rain. The sun's come out, but the water hangs in the air as it slowly begins to evaporate.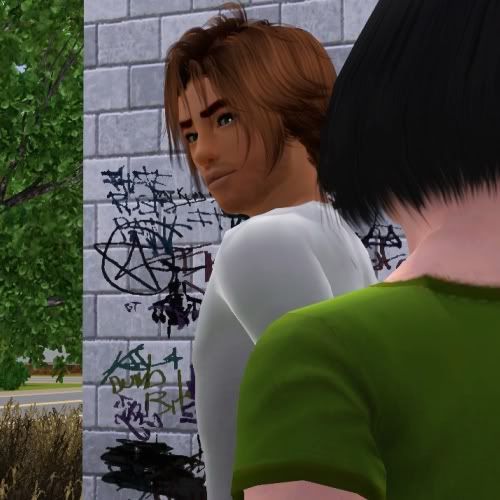 He looks at me in confusion, apparently able to read me enough to know I'm not happy, but not quite sure what the problem is. "What?"

"You're soaked." I peek through the front door of the apartment building. When I looked down from the flight above, he was very much alone, so I'm still sure that he's by himself.

He stands there almost sheepishly as if he's done something wrong. But I'm the one who feels guilty. He was standing out there because he's supposed to watch me. So instead of finding cover elsewhere, or even coming inside out of the rain, he just stayed there.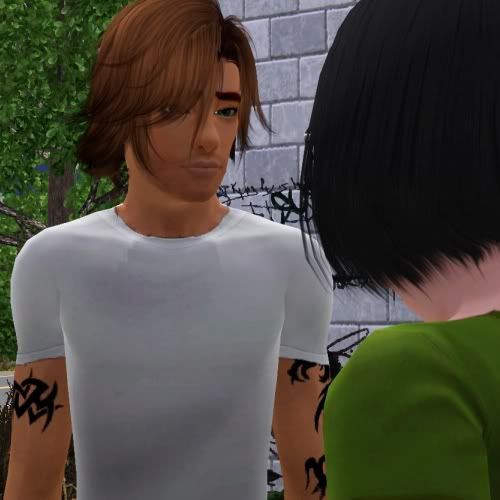 His hair hangs in his face, droplets of water dripping from the ends of his hair, his shirt already soaked enough to press against his skin. My heart pounds as my brain tells me that I'm being very stupid. I know nothing about Alex except that Brandon seems to think he's okay. I trust Brandon, so if Brandon thinks he's okay, I do too. Still, I realize that it's ridiculous to use such a method here to pick friends and confidantes.

"Why were you standing out there in the rain? Why didn't you just come inside?" I ask him. It's my second full day at Henri's, and yesterday when it was sunny, Alex hadn't been the only one standing out here. But today he was the only one.

"I didn't know if it would be appropriate," he says softly, and I can't help looking up, surprised at the look of concern.

I remember what Brandon said, and I can't help rolling my eyes at him even as I look away towards the graffiti on the walls. "You know I'm not actually going to think of smacking you with anything, right?"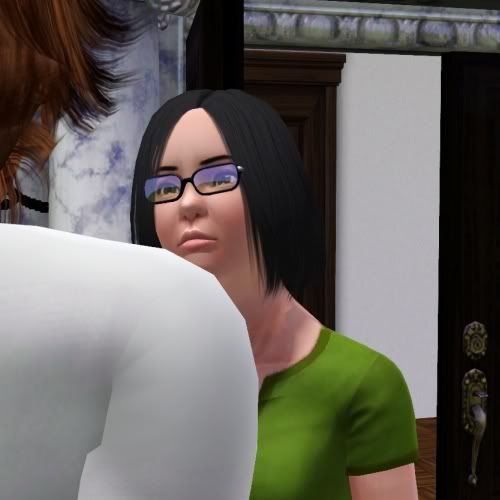 That makes him chuckle. His smile is so gentle and friendly, it's surprisingly easy to be drawn in. Something about him is very different from the others I've met, and I'm not sure what it is exactly, but he manages to put me at ease even as I'm very aware of him and that puts me on edge.

"Why didn't you at least go across the street or something?" I dare to ask, still almost managing to sound a little angry in an attempt to keep my one edge.

"Because speed is not my power."

I hardly glance up at him, my eyes don't make it past his wet shirt that clings to him, the dark tiger tattoo on his chest clear through his white shirt. "What is your power?"

He seems to hesitate, but without looking up into his face, it's hard to guess at what he's thinking. "I can control bodies with the eyes."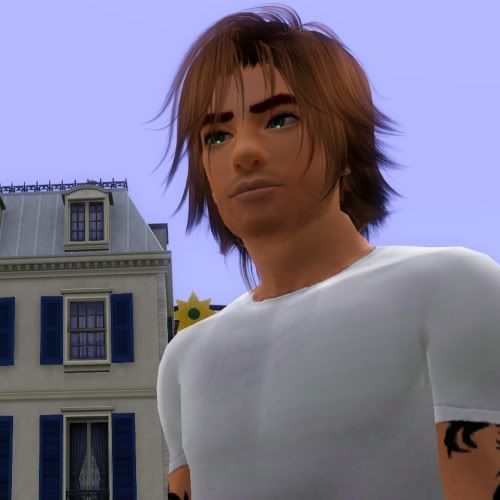 I do glance up then in stupid surprise. I've caught his eyes plenty of times, and he hasn't taken advantage of me so far that I know. But that doesn't mean he won't. It makes him even more dangerous because he won't have to over power me to get his way.

Quickly, I look away, shoving my hair back with a hand. "I should go get you something to dry off. I'll be right back."

"The sun is out now," he says quickly with another friendly and almost innocent smile. "You don't have to."

Before I can take a step back towards the door, Alex turns around and takes off his shirt. In both hands, he starts wringing it, squeezing out the extra water and then patting himself with the shirt. He's taller than Brandon, maybe close to Henri's height, but lithe so that each swipe with his shirt makes his limbs appear very long.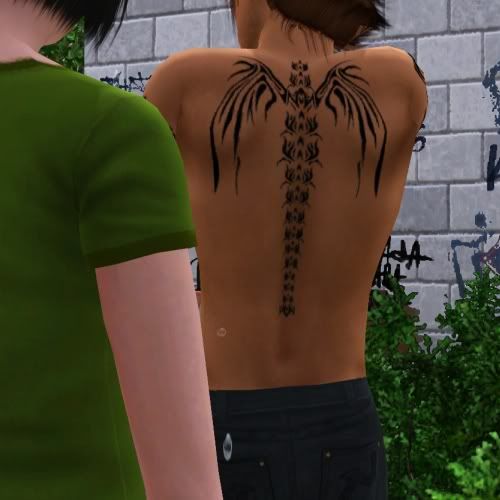 I'm caught silently standing behind him like a wild animal that's been startled. It's not like we didn't have sunny days lazing around together in someone's backyard back home where the guys could take off their shirts, but this is different. Very different.

Down his back he has another tattoo along his spine, one that's more detailed than the large one that Brandon and Jimmy have on their back. It trails down his spine, almost to the small of his back, and I can't help wondering if there is some significance. I'm beginning to understand that here the tattoos are tied into rank. As they become higher, get more reputation, it becomes larger. So what would a tattoo that large mean?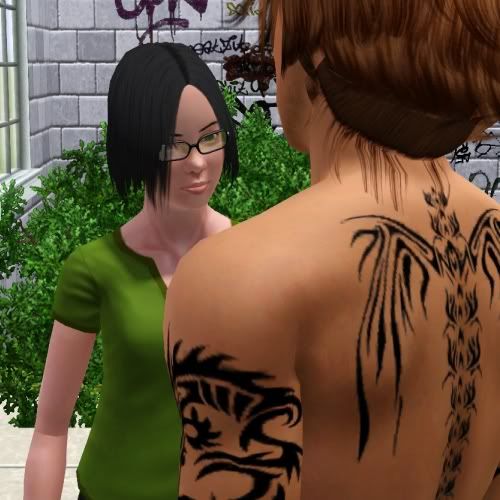 Alex turns around, still holding his wet shirt in one hand, but it's his tiger tattoo across his chest that catches my eye. It's also large and detailed, though not nearly as intricate as the one across his back. I haven't seen any chest tattoos so far, not that I've seen that many people really. So it stands out in that way.

But there's something else about it that makes it stand out. "The tiger has green eyes," I say without looking up.

Alex looks down at his own tattoo. "It didn't work."

The green eyes of the tiger are faded, so that they aren't obvious from a distance. For the green to be apparent at all, one has to stand very near him.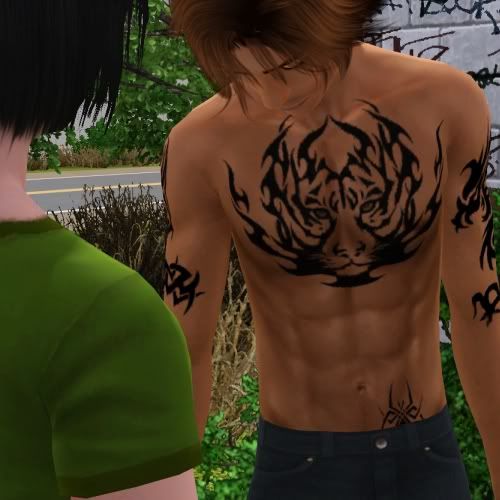 Something tells me that Alex is the tiger. It's in the way he moves even when he's trying not to startle me.

Alex stands in front of me patiently, but I still feel uncomfortable. He seems like a nice person, but this could still easily turn into a bad situation with nothing more than an accidental glance. How do I even know I came down here on my own accord and not because he subtly told me to one of those times I accidentally caught his eye?

But then he softly speaks in a way that reminds me of how he moves. "I won't use it on you," he says. "You can look at my eyes."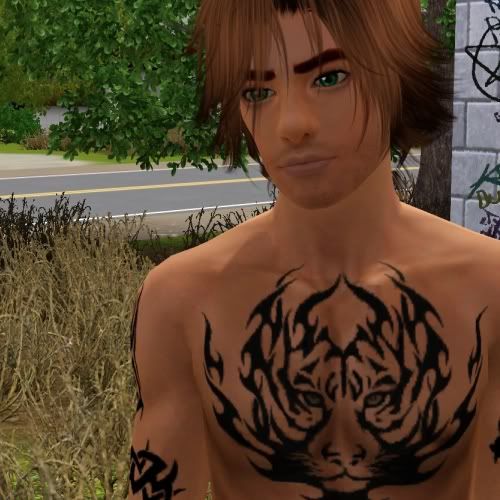 Next Chapter -->