I didn't expect this story to be so long.
In the primary outlining and original drafting of Paula's story, I just had it be a story about her life adapting. That's all it was going to be. The story was meant to be short, like Michael's and Edith's, and an introduction to the "outside world."


I don't know what happened really. I remember talking about how difficult it was to pin down back in the beginning when I first started. This story kept going. I thought I would find an ending, and I actually wrote an ending several times. I had it ending with Brandon stepping up to take his rightful spot, which meant showing one of the rank fights. And also, all the side characters that we met (Angel, Kyrene, Maria, Mike- who we sort of met) were basically his posse, all leaders themselves.

But that ending didn't feel right. So I tested out continuing the story. And before long Alex wandered in there and asked to see Paula (because in my head they knew each other once- Alex is actually one very old character for me). What the hell do you tell a character who asks to meet another? "Hi, that's crazy. Thanks for making me insane."

Oddly, it worked out. I didn't plan that second part at all. After writing a lot, the plot became clear. And it's still not what I was intending. Mostly there, but with lots of room for improvement.


So, let's talk about clues, shall we?

First up, the most recent ones that I can remember.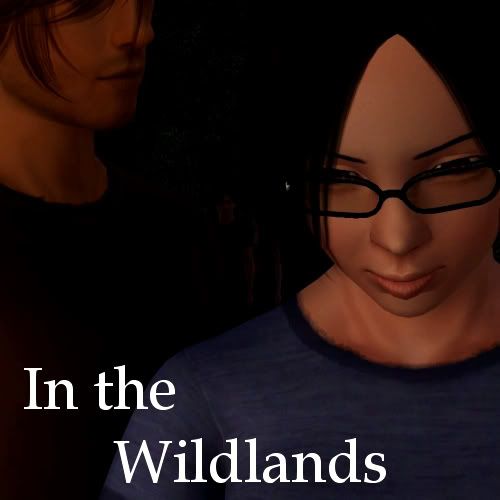 Most everyone got distracted by Alex in this shot. I didn't want it to be too obvious, but I did want it to be there as an easter egg. Which was probably rather unfair of me since I didn't have many hidden easter egs this time around.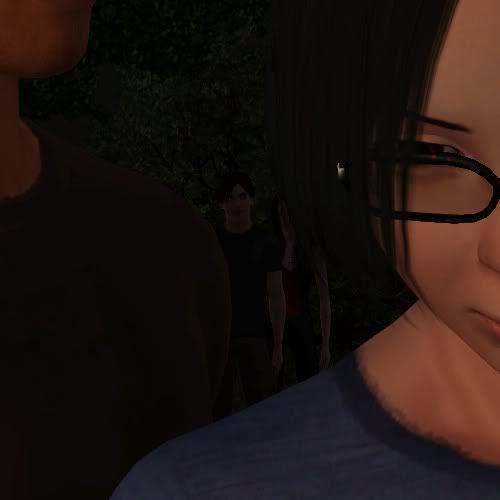 The other issue could also be that the picture was just too dark. On one computer monitor, I can't see them but one the two others I tried, I could see them. Jimmy and Kyrene are hanging out in the back, behind Paula and Alex.

There were other clues in that second part since they took off. First off, the distance covered. Alex had them nearly out of the city in a day while carrying her. That must have made me seem crazy. But I don't imagine Alex carried her. Kyrene probably did with her power.

All of Alex's suspicious behavior on the trip-- he knew Jimmy was right behind them. That's why he insisted that they leave the way they went in at the Labs and how he knew for sure that the Stranger wouldn't be getting back up again. Maybe that was a little dig even at Jimmy since Alex was already doing his dirty work dragging Paula off. He wasn't about to kill a man in front of her too so he left that for Jimmy and Kyrene.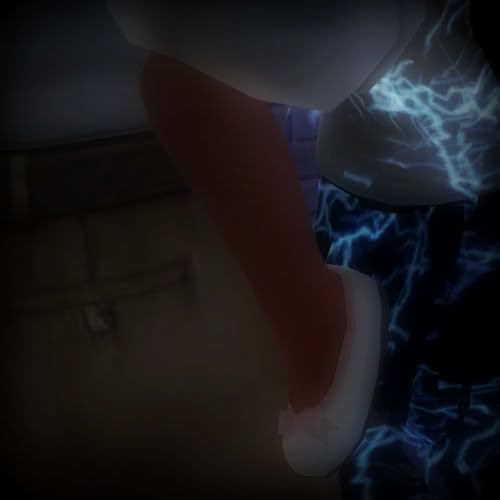 Henri's power.

He has a Fridge attached to a battery and electric lamps with no cords. Hints of his power. Paula has a memory of a man being electrified on the morning Henri gets up and makes bacon. Her mother also doesn't like bacon or cooked meats very much. As in-- at all. Maybe I'll get to that story someday as soon as I figure it out.




Jimmy's super side story and the tipping point.

Jimmy is generally a quiet man, so he surprised me by speaking not once, but twice, to get his own posts. And in those posts, I found him watching Paula. Not just how Alex behaved around her, but he was watching her each time he encountered her in the second part. Possibly trying to decide if he could go through with it?

The tipping point happened to be the most confusing part. When he finds her in the old apartment. It is his old apartment, and her walking through it, violating his past that way is what causes the next part, where Alex appears at her door and puts her to sleep. Kudos to the people who got that intention from the muddled mess I made of it.

Jimmy has his own story somewhere in my head. He's a hard character to get to speak sometimes.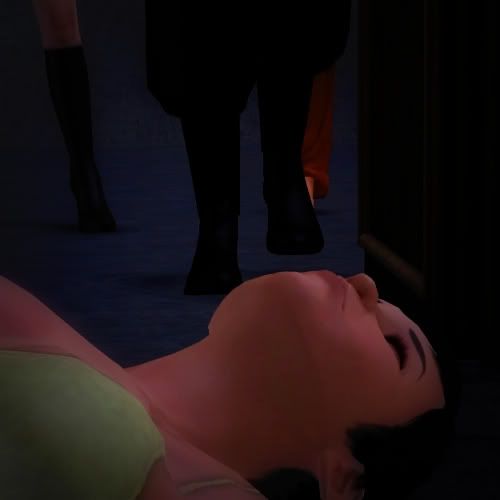 The Ending:

The ending kept shifting the closer I got to it. Every time I thought I nailed a piece down, the ending shifted.

At one point, the ending was going to be that Cheryl didn't make it. This was the original ending. I kept seeing Henri, Brandon, and Jimmy coming to tell Paula. The act of the three of them doing anything together would have been a sign. The truth is the three of them are always working together, but rarely seen in the same room working together. (Unless you count meal times where Brandon and Jimmy are passively working against Henri.)

I even wrote this scene out. Partially. It's in one of my notebooks. I don't think I ever typed it out. It seemed like the way to go. You know, you get a thought in your head and you think, "Well it can't end the other way, or that'll be too happy." So I was determined not to let Cheryl live.

But then one afternoon as I sat writing, Paula said, "This isn't supposed to happen. This isn't the way a story like mine is supposed to end." And I could feel the joy and grief behind the words. The strangest thing was seeing it taking place by Pat's house and with Jimmy in the background.

So Cheryl got spared, and I have yet to find out what she'll do in Wildlands. (Though can you imagine what she'll say if she ever meets Alex? I can already hear her in my head. "You let go of that?")



That ends Paula's story. No more crazy long stories I hope. I'd prefer to do them short and sweet! I'm intent on taking a month off, and then the first story I want to do will be a Rita story. That's the plan at least. See you here in a month! (Otherwise, I have a lot of reading to catch up on. So I'll be seeing you all at your blogs. *goes stalking*)


Edit to add: Oh, I did forget one thing, and while going through my files, I stumbled over it again.

Laura noticed this on Stephan's profile. Someone has a little crush. And just to add fuel to the Jimmy and Paula rumor: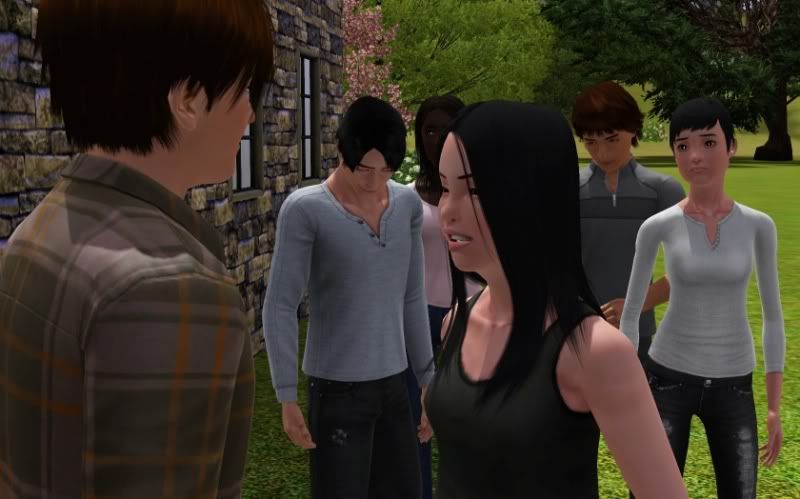 The full picture.




Just a chance animation (as pretty much all the animations were in this shot except Jimmy and Paula's hug), but funny because it's something I somewhat see in my own head. I think Stephan might be a tiny bit jealous/worried.