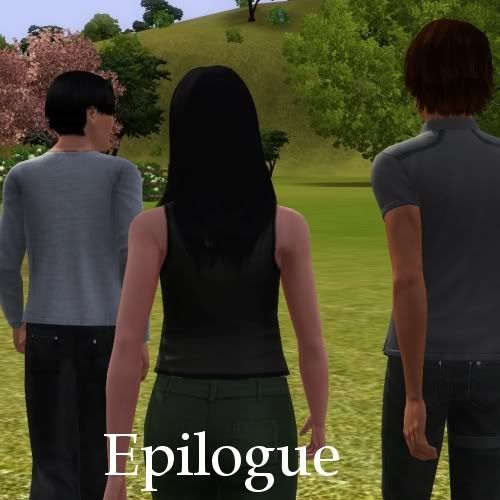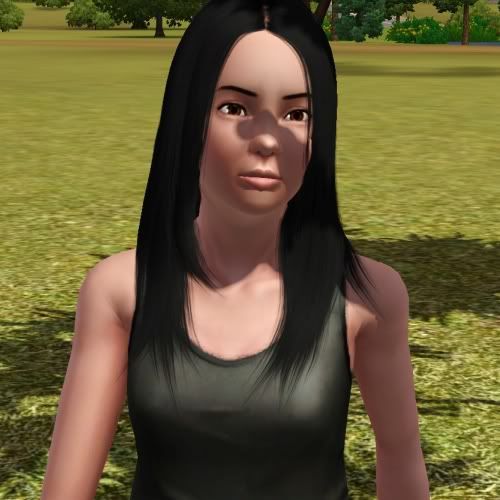 "We're going to go see Pat first, aren't we?"

Brandon is a step ahead of Stephan and me, walking brusquely through the grass with fists at his side. He looks back at me, his clear blue eyes catching the light. There is something different about him. Maybe it's just that I haven't seen him in a couple of months. "Yes. I need to ask her something."

He continues on ahead of us, and I catch Stephan's eye. He pats at his pocket with a wide grin. "I knew we would. I brought some coins to get us a bottle or two to take back."

"A bottle or two? Won't we already have our hands full with the other stuff we came here to get?"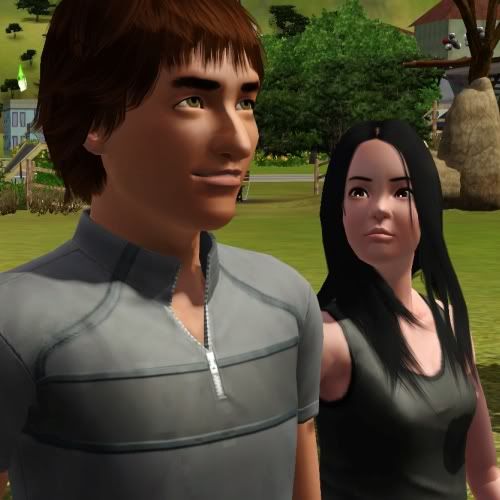 Stephan waves his hand. "There's always room for Pat's booze. I'll leave behind some things if I have to. Anyone else would understand."

I shake my head, but I still laugh. Over the past couple of months working with Stephan here and at the other villages he helps, I've learned that he's rather typically irrelevant but in a good way. He tries to let loose frequently, but he lacks the focus to follow through. Like the night he said he was determined to get me drunk. That didn't work out at all. We both ended up falling asleep against each other on the floor.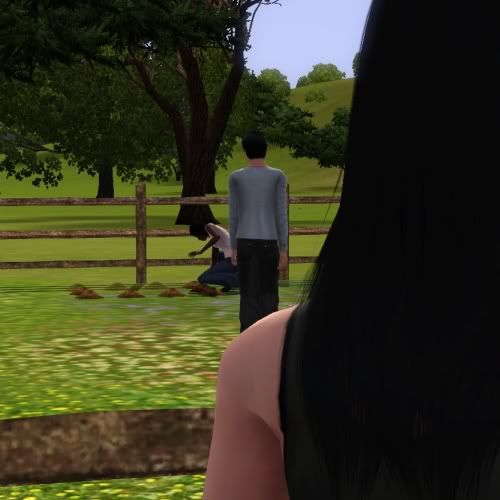 Brandon doesn't even waste time going into the bar. He walks around back to the garden and I wonder if he's already caught some of her thoughts and knew she was there. Stephan and I stay back at the fence as Brandon slips through and walks to the other side of the garden where Pat kneels on the ground caring for the fruit plants she uses to make her famous booze.

Stephan and I glance at each other, trying not to watch, but unable to turn away really. I look at my hands, oil and grime from the machines we have to constantly fix and upgrade worked in so deep that no amount of water or soap removes it. And I see Pat stand up to face Brandon, her eyes only on him. I assume he's talking, but I can't hear him, not with the leaves of the nearby plants rustling in the wind.



Quietly, I ask Stephan, "What do you think he needs to ask her?"

He gives a slight shrug with his shoulders. "To come home I'd guess."

That surprises me. "Why hasn't he just asked her before?"

"What makes you think he hasn't?" Stephan grins at me again.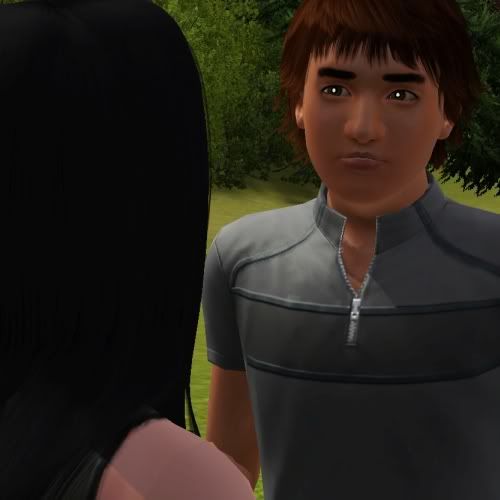 Brandon and Pat still stand apart, her with her arms crossed and her shovel held onto tightly as she looks away from him. If I've noticed the changes, I'm sure she's noticed them too, and probably even more than me. Brandon has changed. He's finally accepting his place as the next leader, and maybe this is just one more step he needs to do.

It makes me think of Alex inexplicably. Brandon said he had word that Alex and Odessa made it home. Supposedly for his bravery helping to dispatch Killer, feared and loathed across the Lost Territory, Alex has earned extra respect. Which he may be too guilty or humble to accept.

I shove strands of hair out of my face, just as I hear a whistle. At first it passes through my ears as I watch Brandon and Pat, but Stephan gives me a gentle shove and points towards the front of the bar, the direction we came from.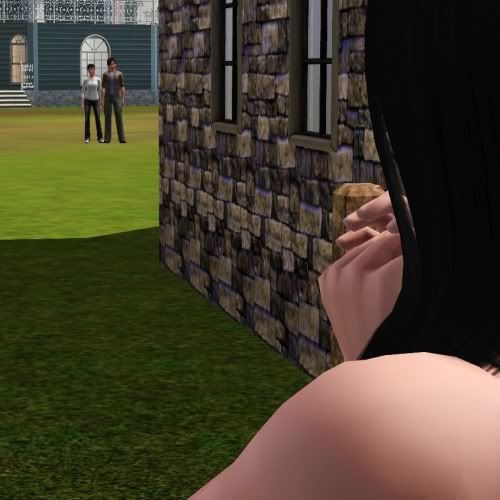 Two people walk through the tall grass. The bright sun shines in my eyes and I can only glimpse their silhouettes at first, one man and a woman. I recognize the man though. With his smooth movements, even the whistle somehow, though I don't know when he's ever whistled near me. It's Jimmy walking up with a woman who stands up to his shoulder and is hardly thicker than his arm. Her hair is short, spiky, and dark. She freezes next to him, and I see him raise a hand to her shoulder as she lifts two hands to her mouth.

My own eyes start to sting and I nearly bite the inside of my lip so hard that I swear I taste some blood.

Stephan still stands behind me. "Are you okay?"

But the words don't register. My eyes stay on the frail form standing next to sturdy Jimmy. The only thing I can think is that it can't possibly be. I want to run, but if it isn't her, if it's just some woman with Jimmy, who never ever walks around with a woman on his arm, but if this one time it is some woman with him for once on his arm, my heart will break all over again. I'll never recover. It would be too cruel. Could Jimmy be that cruel?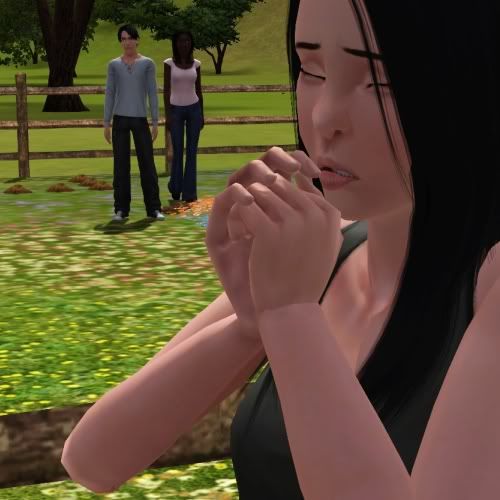 "Paula, what is it?" Stephan reaches a hand forward and grips my shoulder, his fingers surprisingly strong. His voice carries enough that I see Brandon turn. Pat looks in my direction.

I shake my head and blink. "I think-- it's my mom."

"What? You mean-- your mom?" His voice lowers, and for a moment there's only the breeze between the two of us and then his hand's on my shoulder shoving me forward. "Well, go on."

My feet are heavy. I can't move forward, not until she starts towards me and then I'm sure it's her. Those skinny arms and legs, that short spiky hair, it doesn't look like her, but it is her. We meet in the grass at the side of the bar in front of the windows covered with the heavy curtains. She holds me close, her smile and tears in my hair. There isn't much to hold onto with her. My own tears fall onto her bony shoulders.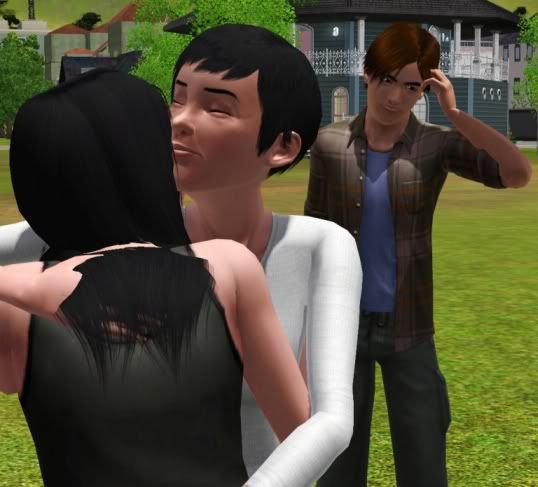 This isn't supposed to happen. This isn't the way a story like mine is supposed to end.

She pulls back and I can't think. We're still close, hands on each other as if the other might disappear. I want to know how, but I can't ask. Jimmy stands off to the side rubbing the back of his neck. Behind me, I hear foot steps on the grass. Brandon and Pat, with Stephan behind, have all stepped forward and are watching with large eyes. It's Brandon who asks, his eyes falling on Jimmy.

"How?"

"Aaron." Jimmy looks at me again. "I asked him to. I figured I owed you."

I don't know what to say. Mom pulls me close again and I close my eyes and I remember. That night at Henri's when Aaron showed up. I was in my room while they talked, and Mom's name came up. Did Jimmy know that Henri had already asked Aaron to do the same for him? Did Mom even know?

Mom shoves at her tears as she smiles at Brandon. "You must be Brandon."

That's all she says before he smiles and steps over to her to give her a hug, folding her into my new life.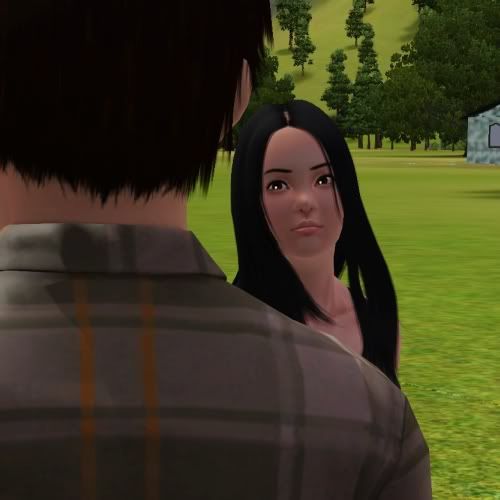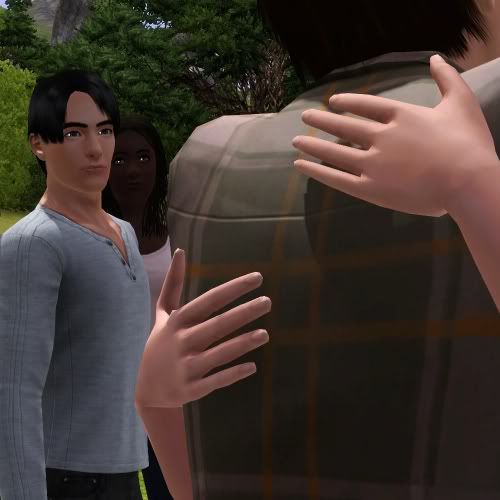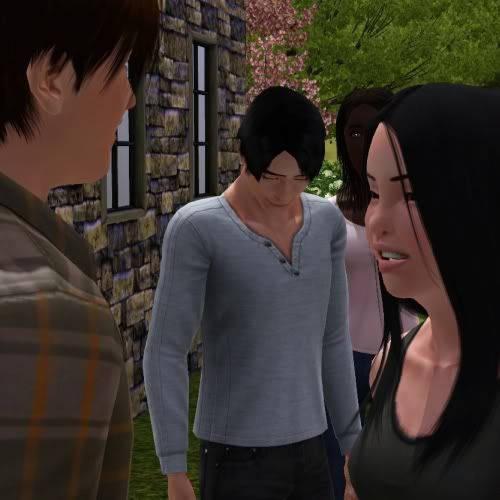 **********************************

Okay, done for real for now.
More on
Stephan
. Also, inspired by Van's
Profiles of Naroni Characters
, I've done two more 10 facts. One for
Pat
and one for
Brandon
. Mostly in preparation for what I'm sure will be one of the next stories told.
But first, a break. I don't know what I'm going to do without having an update to prepare every week. D: I don't even play the game. What'll be my excuse for disappearing every Thursday and Friday now?
Well we're through with the story, but next week, I'll post up the notes, my intentions, and the things I didn't intend. As well as my finally official announcement.